May 4, 2022 – Miami, FL – Senior Financial Advisor and Bitcoin enthusiast, David Kassir of Manna Wealth Management attended Miami's
premier 2022 Bitcoin Conference. The four-day event brought together developers, business leaders, policymakers, and builders of the Bitcoin economy.  2022 is the second year that the Bitcoin conference has taken place in Miami. Miami's transformation into a cryptocurrency hub has added to its more common designation as the financial hub for Latin America.
Thousands of cryptocurrency enthusiasts are gathering in Miami as the city builds its reputation as one of the key locations to develop blockchain technology.
Miami Bitcoin Conference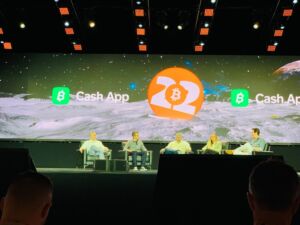 Dozens of companies were in attendance solidifying their presence at the Bitcoin 2022 conference which serves as a venue to network, pitch ideas and share announcements to the industry and beyond.
David Kassir attends Miami's Annual Bitcoin 2022 Conference
"This was my 2nd year in attendance at the Miami Bitcoin Conference.  Witnessing the birthing of a generational industry is similar to the beginnings of the internet in 1994.  It was something I didn't think I would live to see again," says wealth management advisor, David Kassir.
To Learn More about Alternative Investments like Bitcoin please call our office for a complimentary review 305-306-7107 or 703-533-0030 or visit us at :  https://Mannawealthmanagement.com
The information and opinions expressed herein have been obtained from sources believed to be reliable but are not guaranteed for accuracy or completeness; are for information/educational purposes only; do not constitute a solicitation or recommendation for the purchase or sale of any security; are not unbiased/impartial; subject to change; may be from third parties.  Opinions expressed are those of the Author and do not necessarily reflect those of B. Riley Wealth Management or its affiliates. Investment factors are not fully addressed herein. For important disclosure information, please visit www.brileywealth.com/legal-disclosures.